This year, we're bringing Christmas to the World!
Come and gather.
This year at IBC, we've heard a lot about "Come and Follow" as a response to Christ's call. As we anticipate the upcoming Christmas celebrations, we now encourage everyone to come and gather, meet each other and grow together. Then, collectively find ways to go out into the world and give.
Lots of opportunities to bring your family and friends for a joint time of worship and celebration! Let us come and gather!!!
---
⭐️ DEC 3, Sunday: A "Silent Night" Christmas ⭐️ 9:00am & 11:00am
Our Children's Choirs will be leading us in worship as we kick off our Christmas celebrations!
⭐️ DEC 8, Friday: Women's Lunch ⭐️ 11:00am
A vibrant celebration for ladies of all ages, to be held at One Farrer Hotel. Let's celebrate beauty in our uniqueness and diversity! Invite your mom, sisters, friends and colleagues!
Come in your traditional wear or favorite Christmas dress.
Listen to a special story about how one woman answered God's call for missions.
Shop for a cause from various social entreprises and learn about their beneficiaries.
⭐️ DEC 10, Sunday: Christmas Blessing and Offering ⭐️ 9:00am & 11:00am
This is a special Sunday especially for children as they worship together and remember Christ's birth. Children's programs will be at 11am, per usual schedule. Regular worship services will still be at 9am and 11am, with a special focus on Lottie Moon.
⭐️ DEC 17, Sunday: A New and Glorious Morn ⭐️ 9:00am & 11:00am
A Christmas musical in service to be presented by our Sanctuary Choir and Orchestra. Join us in singing familiar carols as we recall the story of the coming of Christ to bring His light to this world in need.
⭐️ DEC 24, Sunday: Christmas Eve Service + Gathering ⭐️ 11:00am & 4:00pm
Our traditional Christmas Eve services just got better! Make plans to stay back after service for a time of fellowship after the 11am or 4pm service. We will all come and gather over a festive holiday meal!
We'll also get to experience a special cultural immersion as IBCers showcase their countries of origin. As we go around and experience the different parts of the world, we encourage you to keep your eyes and hearts open for possible opportunities to give of your time, talent and treasure.
---
Go and Give.
As part of our yearly Christmas tradition, we aim to raise $100,000 for the Lottie Moon Christmas Offering throughout December. This fund helps provide support to IMB Missionaries worldwide.
Please remember to indicate 'LOTTIE MOON' as you give online or on-site.
Click on the image below for a full list of items needed for our Christmas Food Drive, and links to the FairPrice website.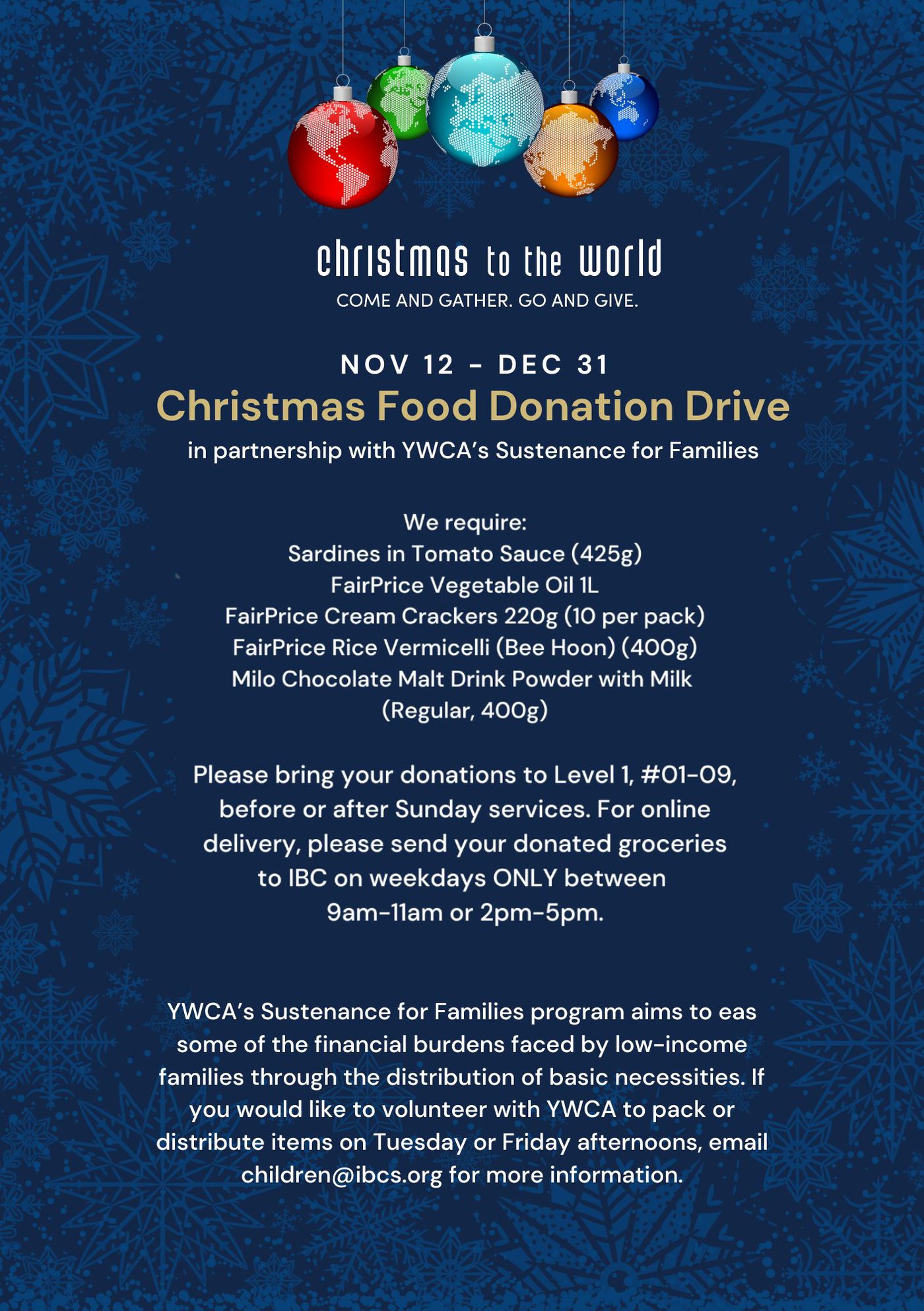 ⭐️ Come and gather. Go and give. ⭐️
After Christmas, you are welcome to continue connecting with us in our worship services and connection groups. You can also find out more about our partner mission organizations below.