Discover how a Proverbs 31 woman looks like in our modern-day world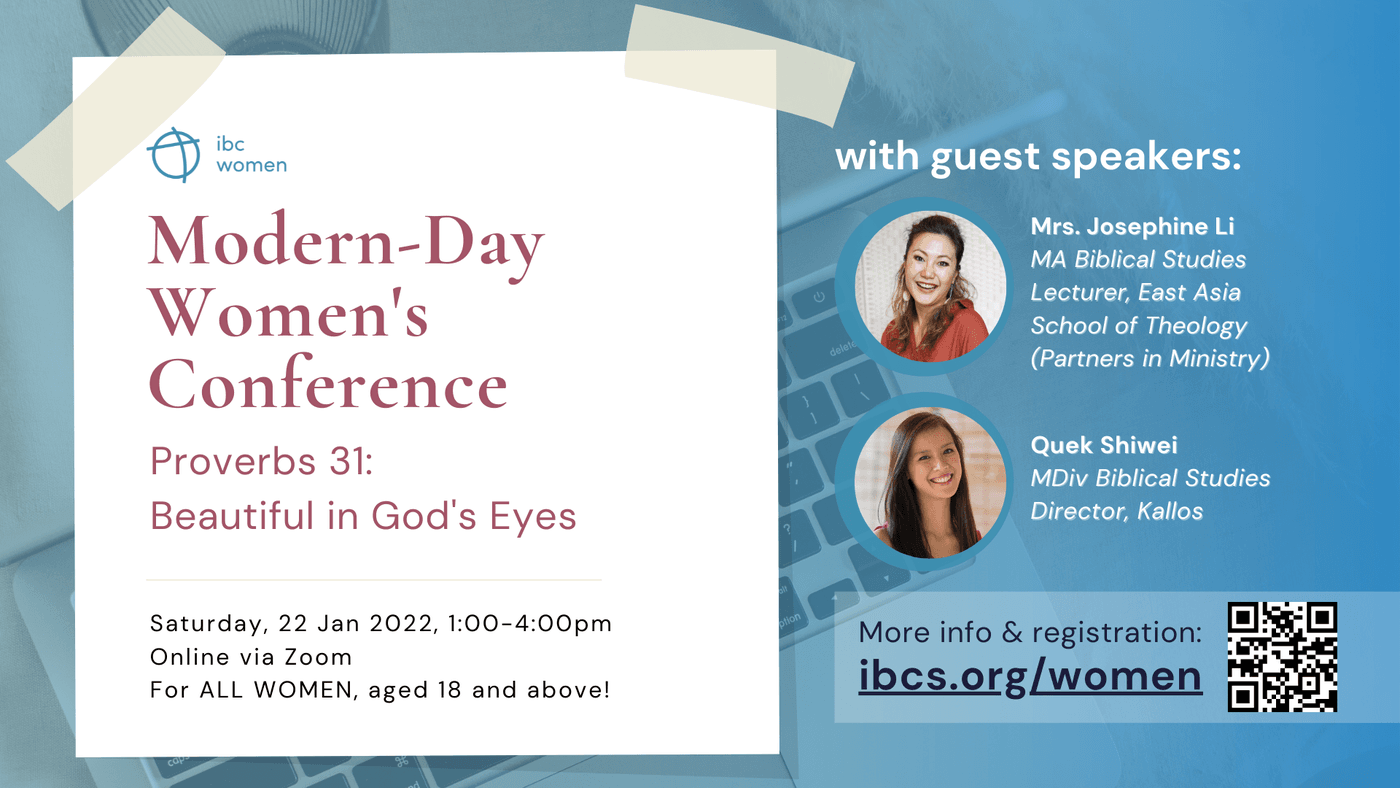 What is The Modern-Day Women's Conference (MDWC)?
The MDWC is an event organized by IBC Women's Ministry that addresses how the virtuous woman in Proverbs 31 looks like in our modern-day world.
What can I expect from MDWC?
MDWC is for women who would like to understand beauty in God's eyes. We will discover how we can be truly beautiful through studying the biblical and practical examples from Proverbs 31. We will be joined by special guest speakers, Mrs. Josephine Li from the East Asia School of Theology, and Quek Shiwei from Kallos.
During our virtual time together, we will be focusing on some key points and break out into 2 groups for further reflection, discussion and sharing. We will also have some time to create earrings together!
Who can attend this event?
ALL women aged 18 and above are all invited! Single, married, with or with no kids--everyone is welcome. Invite all your girlfriends!
How will the program look like?
All the sessions will be via Zoom. Below is a run-down of the conference schedule:
1:00 - 1:15pm Welcome and ice-breaker
1:15 - 2:45pm Message in Breakout Groups
Group 1: God's Beautiful Wife (Speaker: Mrs. Josephine Li)
Do you always struggle living up to the Proverbs 31 Virtuous Woman's standard? What is her secret of success? Josephine will be sharing some of the biblical and practical tips to be the Godly beautiful wife from Proverbs 31.
Group 2: Beautiful Woman (Speaker: Quek Shiwei)
What does it mean to be beautiful inside out? While Proverbs 31 often sounds like an impossible list of qualities a godly woman has, it offers a vivid picture of what true beauty means through Lady Wisdom. No matter what stage of life you are in, comparing your life with others' on social media can often eat at your soul and make you doubt if you have beauty to offer the world. Shiwei will be sharing about what true beauty looks like in God's eyes. Join us and be encouraged by the stories of other sisters.
2:50 - 3.00pm Break
3.00 - 3:45pm Craft (Home-made earrings!)
3:45 - 4.00pm Closing and Women's Ministry upcoming events
What is the cost of registration?
There is no cost involved. It is free! Just come! 😊
How do I register?
Simply go to this registration Modern-Day Women's Conference page to key in your details and book your slot.
Upon registration, we will send you more information. Materials for the craft activity will also be mailed to you by post.
How can I get in touch with the local organizer (ie, IBC Singapore)?
If you have any questions that have not been addressed on this page, please email us at women@ibcs.org.
Can I invite others to join?
Certainly! You may share this Modern-Day Women's Conference page or forward the promotional poster you have received to your friends and colleagues. You can also share the image below!